Valens™ Farmer for Dogs is formulated to promote and maintain a healthy body weight for your pet. Capturing the essence of the farm with ingredients including tender chicken and turkey, plus tangy fresh fruits and vegetables, this recipe is sure to win over your canine companion.
Product advantages
We are preparing our Farmer/Dogs recipe with fresh, boneless, lean, nutrient-dense chicken and turkey from our trusted network of local and regional government-certified farmers. Our chicken and turkey are delivered to our kitchens every day, fresh and chilled and never are never frozen to preserve the integrity and quality of the ingredients. We incorporate whole fruits and vegetables from the Okanagan and Fraser Valley as sources of grain-free carbohydrates to achieve a recipe that feeds your dogs based on their evolutionary digestive abilities.Essential nutrients are added to the Farmer/Dog Valens recipe to ensure your dog receives all the vitamins, minerals, antioxidants, prebiotics and probiotics he needs for a healthy body and healthy immune systems.
Recipe Farmer/Dog Valens is prepared with generous amounts of tender, fresh, boneless chicken and turkey specially chosen for their naturally derived nutrients that promote lean muscle mass, healthy body weight and aid digestion. Our signature product VITA-CUBE including natural freeze-dried chicken is added to increase palatability, aroma and flavor. Tart red cranberries which contain antioxidant and phytonutrient properties are added to complete the chicken and turkey insert. We also add pumpkin known for its lack of trans fats in addition to its superb nutritional value including antioxidants like lutein and xanthine which protect cells against damage caused by free radicals.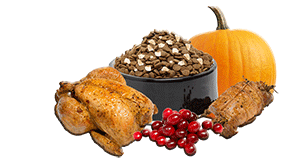 The Farmer/Dog Valens contains peas, sweet potatoes and apples as sources of grain-free, low-glycemic carbohydrates that are slowly absorbed by the digestive system to maintain and promote healthy weight and metabolism. Other super nutrients like Omegas 3-6 (DHA, EPA) that are needed to maintain and promote healthy coat, skin, joints and cognitive function come from human edible chicken fat, salmon and flaxseed to promote good health and well-being in your dog
Ingredients
Boneless fresh chicken, boneless fresh turkey, chicken meal, turkey meal, chicken liver, turkey liver, peas, sweet potatoes, freeze-dried chicken, flax seeds, chicken fat (tocopherols and citric acid as preservatives ), tomato puree, pea protein, natural flavor, cod liver, sodium chloride, yeast culture, dried extract of fermentation of Saccharomyces cerevisiae (MOS), chicory root (FOS), potassium chloride, dehydrated kelp, L-carnitine, blueberries, carob, cranberries, ginger root, apples, dried extract from fermentation of Lactobacillus , yeast extract, elderberry extract, rosemary extract, thyme extract, Yucca Schdigera extract , carrots, spinach, pumpkin, dehydrated fermentation product of Lactobacillus acidophilus , dehydrated fermentation product of Lactobacillus casei , dehydrated fermentation product of Bifido bacterium bifidium thermophilium , dehydrated fermentation product of Streptococcus faecium , glucosamine, chondroitin, zinc sulfate, ferrous sulfate, vitamin E supplement, manganous proteinate, vitamin A supplement, copper proteinate, riboflavin, thiamin mononitrate, manganese, pyridoxine hydrochloride, vitamin D3 supplement, calcium iodate, folic acid, sodium selenite, vitamin B12 supplement, green tea extract, turmeric root, fennel, paprika, cayenne pepper.

GUARANTEED ANALYSIS:

Crude protein (min) 30%
Crude fat (min) 18%
Crude fiber (max) 5.0%
Humidity (max) 10%
Ash (max) 8%
Calcium (min) 1.4%
Phosphorus (min) 0.9%
Vitamin A (min) 20,000 IU/kg
Vitamin D3 (min) 1000 IU/kg
Vitamin E (min) 125 IU/kg
Omega 6 (min) 2.9%
Omega 3 (min) 1.8%
Metabolizable Energy (ME) 3600 kcal/kg

Calories per 8 oz (250 ml) serving: 432